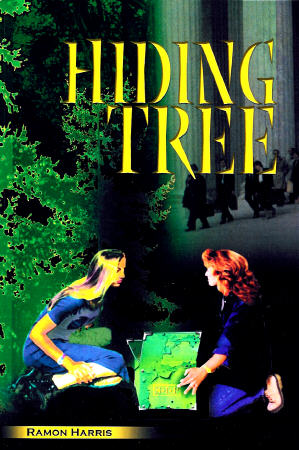 HIDING TREE - a female detective romance with an unsolved mystery, time travel, and computer-sleuthing.

Laura Kahl is a computer executive with a taste for cyber detection. She's been a rising star at Laughlin International for eleven years, but now it seems she can't do anything right. So her bosses have a little chat with her - improve or you're out of here.

Adrift, her edge lost, Laura receives a modest inheritance from her Great Aunt, accompanied by a puzzling note: " You were our smart one, Laura, maybe you can do more with this than Dad and I could."

Intrigued by an unsolved Civil War mystery, she accepts the challenge from her Great Aunt while struggling to save her career. Super-talented associates help unravel the centuries-old time travel mystery. Pablo Beckman, a wealthy retired lawyer, and Bo Didier, a romantic young computer genius, use computer detection and time travel to uncover a faint trail leading across a continent to a very different time. Along the way Laura must face unpleasant truths about her own romantic motivation. A shadowy group, murderers with a lot to lose, throw up deadly barriers as the truth comes out in tiny, illogical fragments. To break through she must risk her career and the lives of her friends. She rolls the dice, desperate to remove the veil from a centuries-old unsolved mystery.

Wonderfully crafted and absolutely terrifying. It's all here: a female detective romance with strong Laura Kahl as the lead. Here you'll find action and adventure, a time traveler, tragedy, ante-bellum courtrooms, lost treasure, a cyber detective, erotic nights, and a life that can never be the same. You'll want to read Laura's story from cover to cover; white-knuckle tension and deft prose, a one-sitting page-turner. A techno-thriller about a romantic female detective who just happens to be a top executive. Read about feminist glass ceilings, unbelievable riches, and death. You'll be bitten hard from page one.